Wheeled workbench BASIC RWB 2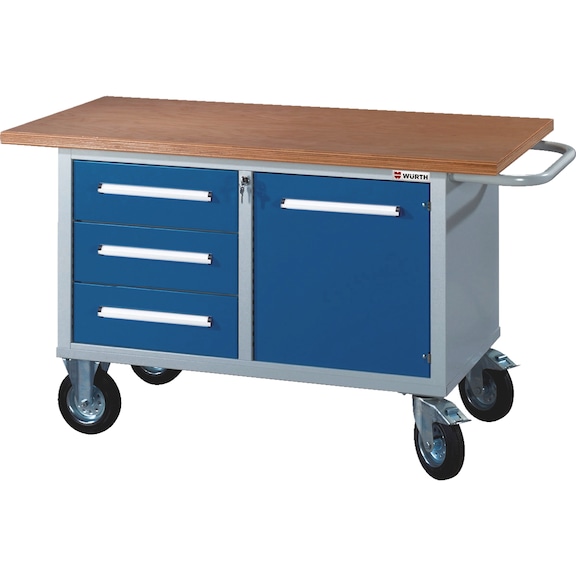 The images are examples. For detailed information, other images and documents, please select individual articles from the following table.
Wheeled workbench BASIC RWB 2
Robust BASIC wheeled workbench with drawers for versatile, everyday use in the workshop.
Width x height x depth: 1500 x 835 x 750 mm
Colour of frame: Light grey RAL 7035
Colour of drawer: Gentian blue RAL 5010
Material of the tabletop: Beech multiplex
Tabletop thickness: 40 mm
Roll diameter: 160 mm
Load capacity: 300 kg
Material: Sheet steel

Surface: Powder-coated
Number of rolls: 4 PCS
Exclusively for trade customers
Register now and access more than 15,000 products
Call customer service: +44 03300 555 444
Variants
Packaging unit
The packaging unit defines the number of articles in one packaging. In the catalog segment you can choose from different packaging units if a pop-up menu is displayed.
Just leave the field empty if you don't know the packaging unit when directly entering the article number in the shopping basket or when importing with Easy-/VarioScan. The packaging unit will be determined automatically.
Structure of our article number
The article number is made up of the following: VVVVAAABBB
VVVV = 4 digits for prefix number (please note that the first digit is currently always 0)
AAA = 3 digits for dimension part 1
BBB = 3 digits for dimension part 2
Example article number structures:
Example 1: Screw with dimensions of 4x10 mm:
VVVVAAABBB
00574 10 (2 spaces between the 4 and the 10)
Example 2: Screw with dimensions of 10x20 mm:
VVVVAAABBB
005710 20 (1 space between the 10 and the 20)
Example 3: Flat washer with an internal diameter of 6 mm:
VVVVAAABBB
04076
Information on price display
Price per packaging unit (PU):
The displayed price is always in line with the displayed packaging, if the PU is 250 the price for 250 units, if the PU is 300 the price for 300 units.
Price with price key representation (PSL):
The price always applies to a quantity ruled through the price key:
Price for 1 unit
Price for 100 units
Price for 1000 units
Quantity
The quantity shows the number of pieces or units of measure contained in the order or delivery for the respective article.
In contrast to sales packaging and secondary packaging, the disposal costs for chemical-technical products are shown separately. The breakdown of the individual costs can be found on the relevant products and also in the shopping cart, as well as in our
General Terms and Conditions (GTC)
.
Art.-no.
Plus disposal costs -,-- per selected packing unit
Cust. Mat. No.
Exclusively for trade customers
Register now and access more than 15,000 products
Call customer service: +44 03300 555 444
Prices for customers after login
Robust sheet-steel construction, welded with multiple edging


40-mm bevelled worktop made from beech multiplex, water and oil-resistant thanks to colourless varnish


Central locking system to protect contents from theft


Aluminium handle with labelling strips and transparent cover


Drawers with over 80% partial extension, mounted on roller bearings


Built-in safety drawer lock prevents tipping


Internal drawer dimensions (W x D): 477 x 587 mm


Drawer load capacity: 100 kg with evenly distributed load


Rows of slots and perforated base for inserting dividers


Robust steering handle


Two fixed castors and steering rollers with brake, ∅ 160 mm
Select RAL-colour code
!! NOTE: On-screen visualisation of the colour differs from real colour shade!!